Jumping on the Cape of Good Hope
🇿🇦
Cape of Good Hope, south africa,
Well, we did it. After three weeks of intense training, J and I both got our Day Skipper licenses! Man, sailing is a world on its own. There are so many things to learn and so much experience to gain before you can get good at it. But as the captain's version of a Chinese proverb goes, the best time to learn sailing was 20 years ago. And the second-best time is now! So here we are, exhausted but happy, ready to take on the world. Or at least the ocean. Well, the coast for now. Or maybe a lake. OK, let's start in a swimming pool on an inflatable unicorn.
Anyhow, back to jumping. We had a few free days after our course in Cape Town. We decided to rent a car and venture around the city. Here are the notes from that day.
We Ubered to Thrifly to get our car at 10 a.m. and d got assigned a cute little yellow Toyota. Took it and drove the scenic route along the coast. We made a first stop at Camps Bay, where we stopped to get a coffee at The 41.
Energized with caffeine, we then continued our journey, passing by Hout Bay. Exiting "Houtbaai", we took the Chesapeake pass, a toll road along the Chesapeake Mountain that offered dramatic views of the bay and the ocean. Continued towards Cape Point.
We randomly stopped at an ostrich farm where we had a quick bite and could take pictures of ostriches (they are large and weird birds, not so far from dinosaurs). We continued our way towards Cape Point and had to pay R752 (~40 euros) for the privilege to enter the park. Ouch.
We made a stop at a view point, where we took a quick 30-minute walk along the cliff overlooking False Bay. Beautiful place. This is when we made a jumping pic.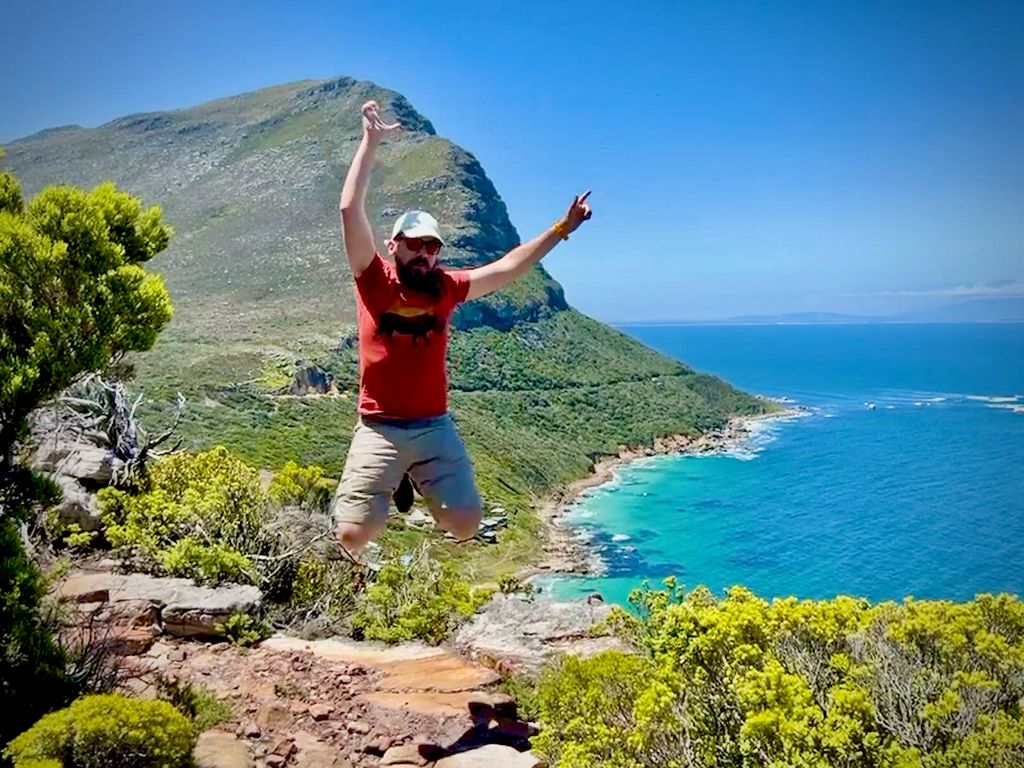 Then we took the car again towards Cape Point Lighthouse, which is at the tip and top of the Cape of Good Hope peninsula. We parked at the bottom of the lighthouse and proceeded to climb our way to it. Damn, it was steep and hot. Despite the crowds that prevented me from taking another jumping pic, the dramatic views from the top were totally worth it. This place is mythical, especially for the newborn sailors we are.
On the way back down, we stopped to buy some water, and in the short time we stayed there, we saw some lizards, dracula parrots and a mother chipmunk carrying her baby. Sadly, we didn't see any baboons, despite all the warning signs. J. was utterly disappointed.
We walked to the car again and drove to the Cape of Good Hope viewpoint, where we saw some wild ostriches grazing by the sea. We took some nice pictures, videos, and timelapses (that sadly I'm not allowed to share here as they are not jumping pics) before slowly making our way back to Cape Town via Simon's Town and Kalk's Bay.
The drive was very pleasant and easy; we only got it wrong once, taking a wrong turn just as we arrived in Cape Town.