Jumping in Formentera
🇪🇸
Formentera, Las Palmas, spain,
Today is sailing day! We booked a full excursion on a sailboat that will go from Beso Beach in Ibiza to Formentera. It costs us 185 euros per pax.
We take a taxi at the port of Ibiza, and by 10 a.m., we're on Beso Beach at the Les Salinas hotel. The skipper (whose name I forgot, sorry) picks us up in the dinghy, and we reach Océane, a 36-foot Jeanneau. On board are Pali, the girlfriend of the skipper, and a couple of Swiss. Later, we get joined by three Frenchies (mom and her two young adult children). We're 10 on board, but spread between the front and back, it's not overcrowded.
For the first part of the trip, we have to motor to Formentera as there isn't enough wind. We're at the bow, and it's still super nice. For our first stop, we anchor at a very pretty beach in the north of the island. We jump into the water; it's fresh but acceptable after a minute or two.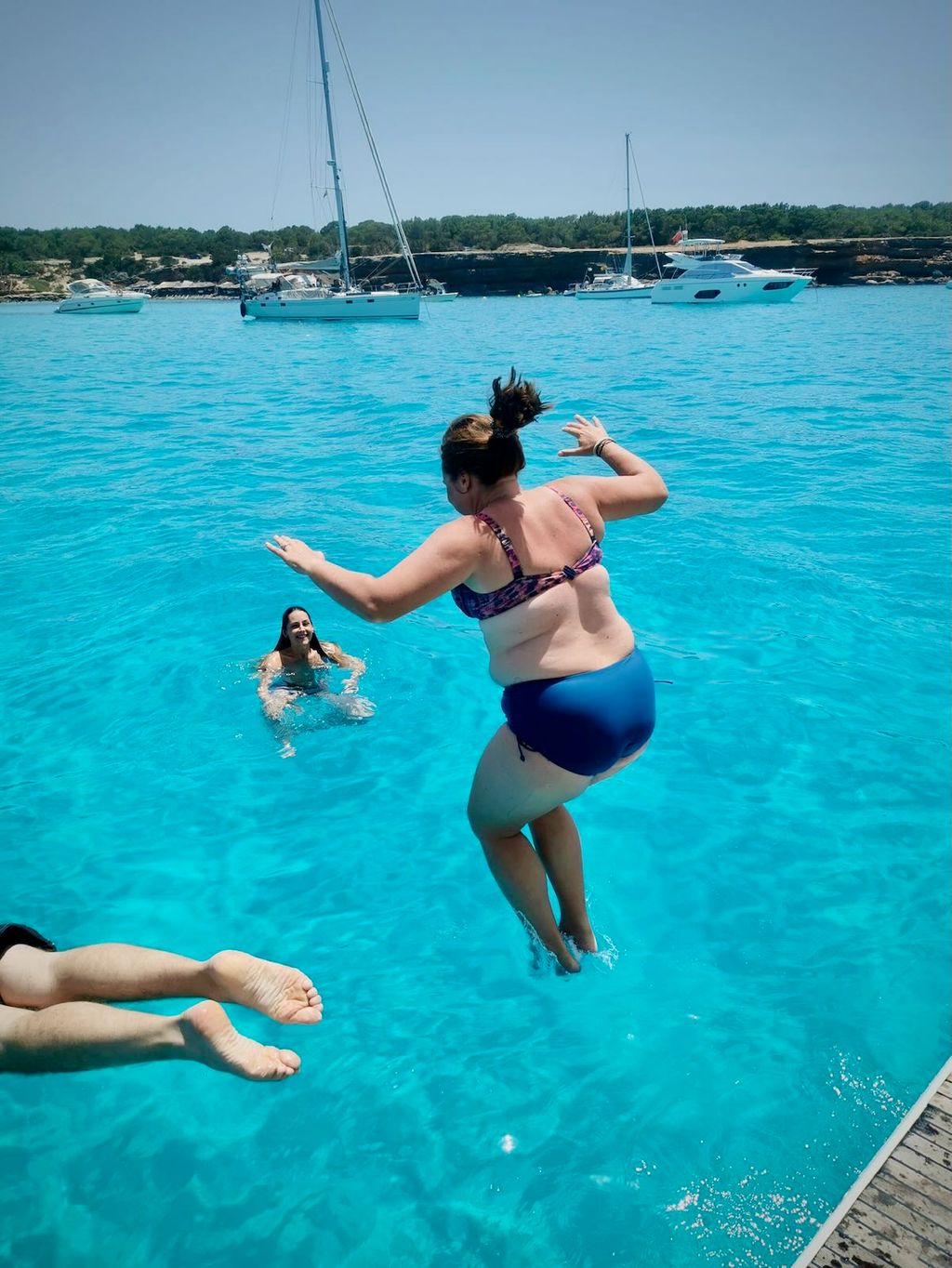 A few fish come to say hi, but they are not too special (no colorful tropical fish). The water is crystal clear though. Sylvain tries the stand-up paddle. His conclusion is that it's hard! The daughter of the Frenchy goes topless, because why not? We spend about 2 hours there in the water, in the sun, and in the shade, mostly boat watching. It's perfect.
Then, we motor our way further south to an even prettier spot, albeit quite a busy one. The Chacala Restaurant's boat picks us up and drops us off at the beach. The dinghy skipper is a French guy, communicating in French over the radio with the kitchen for orders.
After a bit of a snafu about whether or not we had a booking (we did), we finally end up having a table with the best view of the beach! We order fried starters, followed by fish for J, spaghetti for Sylvain, and goat cheese salad for me, and end up with a cornetto.
We walk back to the beach and wait a few minutes for the dinghy to get back on board Océane. J. goes for another swim. The Swiss spotted some jellyfish, so we need to be careful. Fortunately, nobody gets stung. We crack open the Prosecco bottle we had bought as a supplement during the booking. That's the life!
Shortly after, the Frenchies go back on board and go for a short swim, after which we return to base. Now, the wind is in our favor, and we can put the sails out. The skipper lets me try to pull the Genoa rope on the winch and even stay at the helm for a bit. I love it. The wheel of that sailboat is much more sensitive than the RIB I practiced on a few days before in Mallorca. J. really wants a boat now, too. Our hosts offer us a glass of Cava and some apéro jamón bits while we return.
We anchor at Beso Beach past 6 p.m. We take a taxi and are back at our hotel in the old city center of Ibiza at around 19:30. We have a cooldown session and shower until 9. Sylvain had spotted a sign for a rooftop around our hotel. He can't find it anymore, but we find an even better one at the Standard Ibiza hotel. The hotel is Mexican-themed. Service is a bit slow, but we have a great time with cocktails, micheladas, guacamole, patatas bravas, and costillas de cordero (Mexican style). We even find some energy left to go get an ice cream afterwards, walk by the port, and buy a magnet (almost forgot!).