Jumping in Castricum aan Zee
🇳🇱
Castricum aan Zee, netherlands,
The day before, we were at the wedding pre-dinner of J.'s friend in Nootdorp. So that morning, we woke up a bit slow and spacey. We checked out of the Hilton Rotterdam around 10 a.m. and took the metro back to Nootdorp to pick up the car we had left there the day before.
It was a good 20-minute walk, but a nice one along the canals. Once in the car, we headed straight to the campsite in Castricum aan Zee. We arrived there around 12 p.m. and met J.'s whole family, a caravan, a large family tent, and two smaller tents. First time camping in the 🇳🇱 Netherlands for me!
We set up our igloo tent courtesy of the family. Then, we walked up to the sea, a 1-hour journey. On the way, we encountered horses and sheep. A large dune borders the sea that they use to filter the water. It's quite cool.
Behind the dune, it was super windy and cold. There was one cafe there fortunately, so we sat on the terrace, half-sheltered by windscreens, and ordered a huge amount of bitterballen, kaassoufflé, poffertjes, and kroketten. Awesome!
When the sun was shining and the wind was tame, the place was actually super comfortable. But when clouds were overtaking, it was so cold! After lunch, we took a jumping picture on the beach before heading back.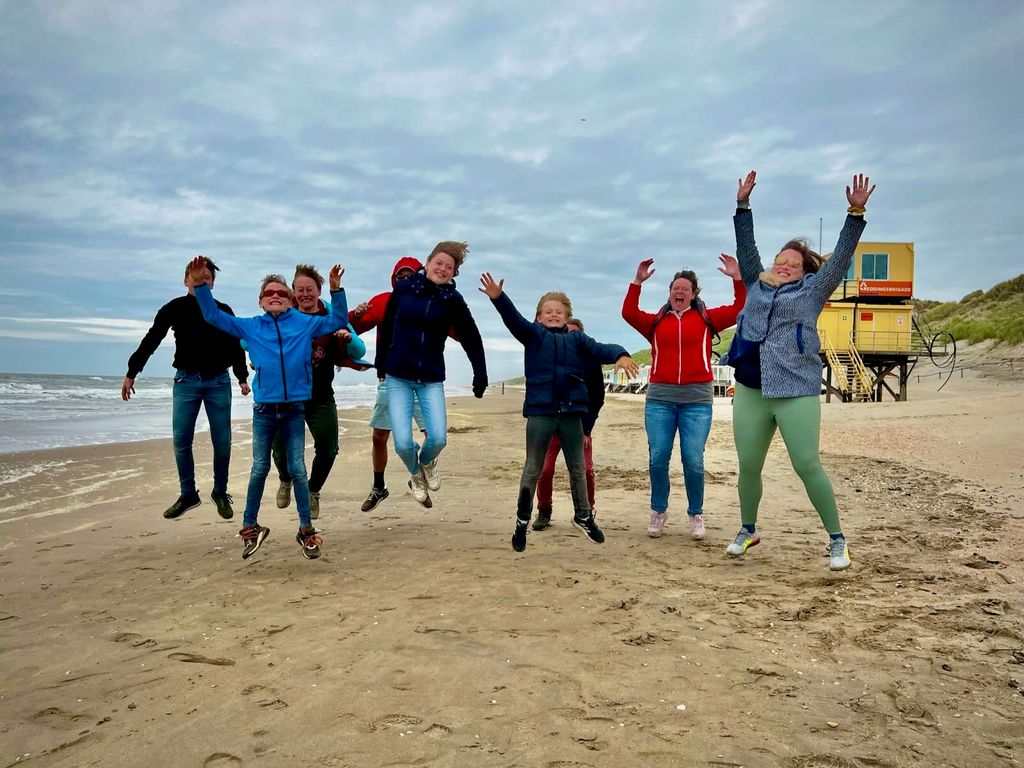 On the way back, we met Scottish Highland cows, with their big horns, roaming free. They were very peaceful but intimidating, still.
Back at the camping, we had a little apéro and later a dinner of tomato soep met brood en kaas. It started to get really cold at night, and by 11 p.m., we were in bed.