Jumping in IJmuiden on DFDS ferry
🇳🇱
IJmuiden, netherlands,
We're in the Netherlands for just a couple of days. Enough time for J. to attend some work meetings and model test basin simulations at Marin in Wageningen for the tug and barge they are designing. As for me, I use that time to enjoy Rotterdam and get a fancy haircut at Schorem.
Today we are taking the ferry from IJmuiden, near Amsterdam, to Newcastle. Boat travel is by far my favorite way of traveling: fast and slow ferries, cruise ships, water taxis, sailboats, cargoships — I love them all. So I was particularly excited about spending 15 hours onboard King Seaways from DFDS.
J. and I are meeting in Haarlem train station, and we take an Uber to the Ferry Terminal in Ijmuiden (25 euros). Check-in and immigration take 5 minutes. Did I say I liked traveling by ferry?
We board the King ferry. We're on the 8th deck, cabin 861. A small but functional private cabin with a double bed. We walk around a bit and find the "Sky Bar" at the top, where we order two cans of John Smiths and some peanuts. Beers aren't great (very tasteless), but give me the courage to jump!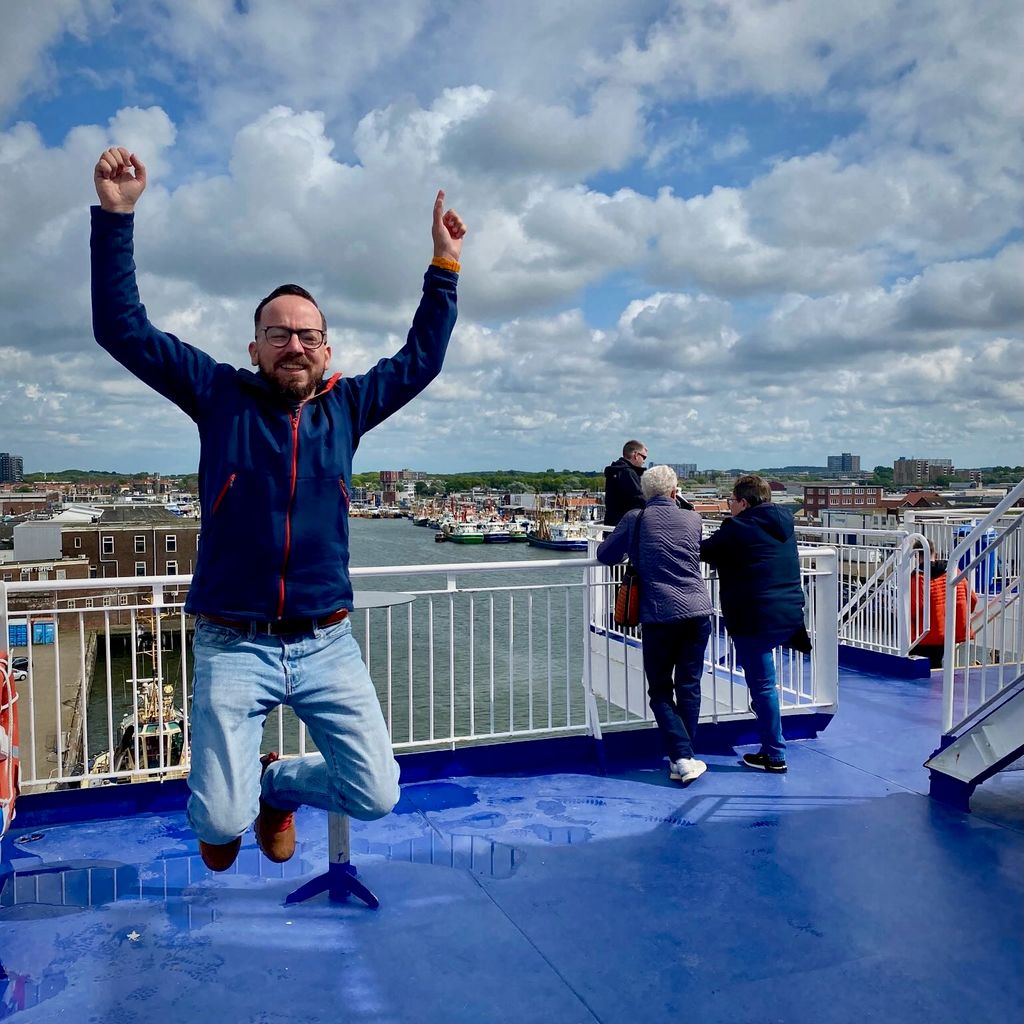 We then find the observation lounge at the bow, with comfy chairs and great views of the port. We stay there until departure with a refill with Heinekens (much tastier than the Smiths). We see many boats and pilot boats doing their things around us. Once at sea, we slalom between wind farm parks and gas platforms. Lots of fun!
We watch an episode of Ozarks in the cabin before heading to the buffet at 8 p.m. for dinner. It's quite busy, but we are given a table by the windows. I eat mostly pizza, salad, and cheese and couldn't be happier. J. tries the tacos, Indian salad, and ice cream.
Back in the cabin, we watch a second Ozark and go to sleep at 22:30. Tomorrow, we'll be in the UK!