Jumping in Edinburgh
Today we take the train from Newcastle to Edinburgh. After checking out, we get an Uber to get to the station. We're early, so we make a stop at the Victoria Comet Nicholson pub in front of the station. The pub is nice, and there are many loud lads getting ready for their probably loud weekend with their other loud lad friends.
The LNER fast train from London arrives on time at 14:50, and 5 minutes later we are on our merry way. The train is absolutely packed. Good that we have reserved seats. People in there are copiously drinking all kinds of beverages and some get a bit rowdy by the time we arrive.
The trip is just 90 minutes, and the landscape is stunning, especially since it's incredibly sunny all along! Many flossies (sheep), cute villages, the sea, and green hills. Beautiful.
Upon arrival in Edinburgh, we have to take quite a few steps to climb the hill. The city is surprisingly (for us) charming as well. Cute streets and cute buildings all around. But it's packed with tourists (not that we are complaining about it; we're part of them).
We get checked in at the Hilton Carlton. We had to use hotel points to book this one, it was listed at £400+ a night when we booked. Not paying that amount with real money, no way, José. Despite J.'s Hilton Honors status, we don't seem to get any room upgrades, as we get a small room at the end of a corridor on the -2 level overlooking a road and the train station. And no bath! I like baths.
At least we get access to the lounge, which is windowless and cramped. The lounge doesn't have a buffet for food, as is usually the case, but a young lad takes orders. He serves us a mint cottage pie and a chicken pie, along with some sides and mini profiteroles, all on the same plate. Interesting combination. We get a G&T and then go to explore the city a bit. And get a good jump while at it.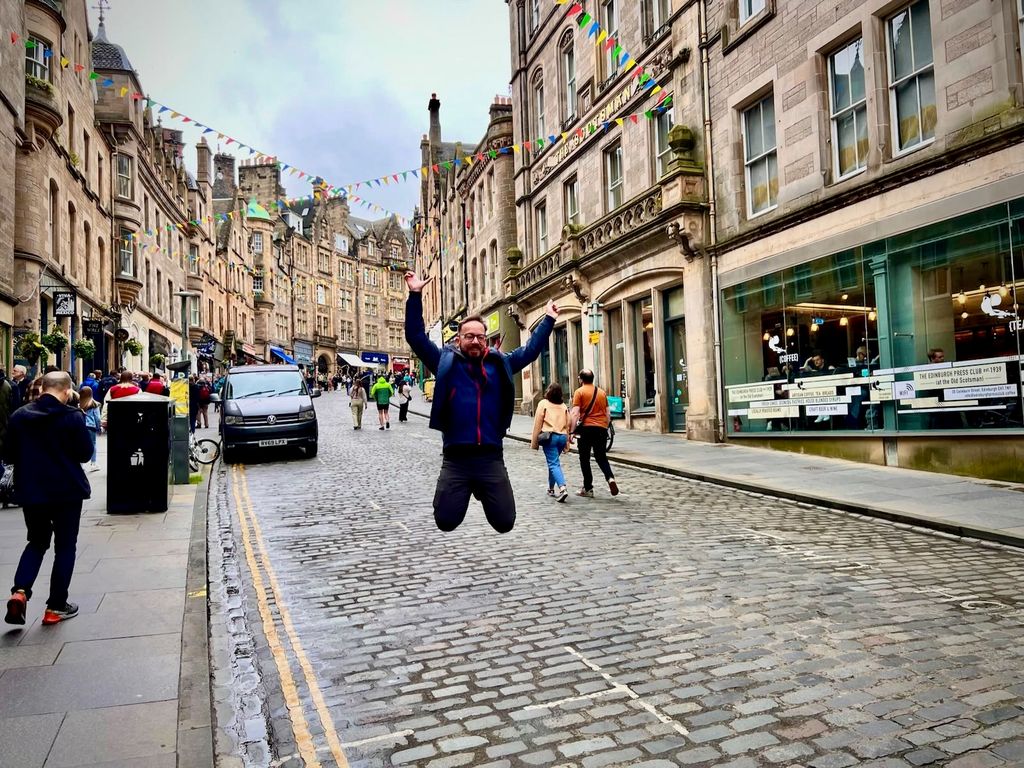 We walk aimlessly in the old center and up the castle, which is undergoing renovations. It really is a stunningly pretty old town. For dinner, we settle for something local: the Mariachi Mexican resto 😂 I have fajitas and J. a burrito, along with home-made Sangria. We love it! I think Mexican is my spiritual food.