Jumping around Cape Town
🇿🇦
Seaforth's beach, south africa,
It's happening! We've booked a three-week sailing class in Cape Town to learn the ropes of sailing. It's our first time in South Africa, so we've decided to arrive a few days earlier to visit the city and its surroundings.
On the program for today: 🐧 penguins!
After a short coffee at our favorite local coffee shop next to our hotel, we ubered to Seaforth Public Beach (R352) near Simon's Town, to the east of Cape Town. This place and Boulder's National Reserve next to it are great places to spot African penguins. African Penguins used to be known as jackass penguins because of their distinctive braying, and they're the only penguins found on the continent.
Seaforth Beach was almost empty and had some penguins roaming free and taking in the sun at the end of it. It was nice and chill. We took a jumping picture, sadly without the penguins, as we didn't want to spook them.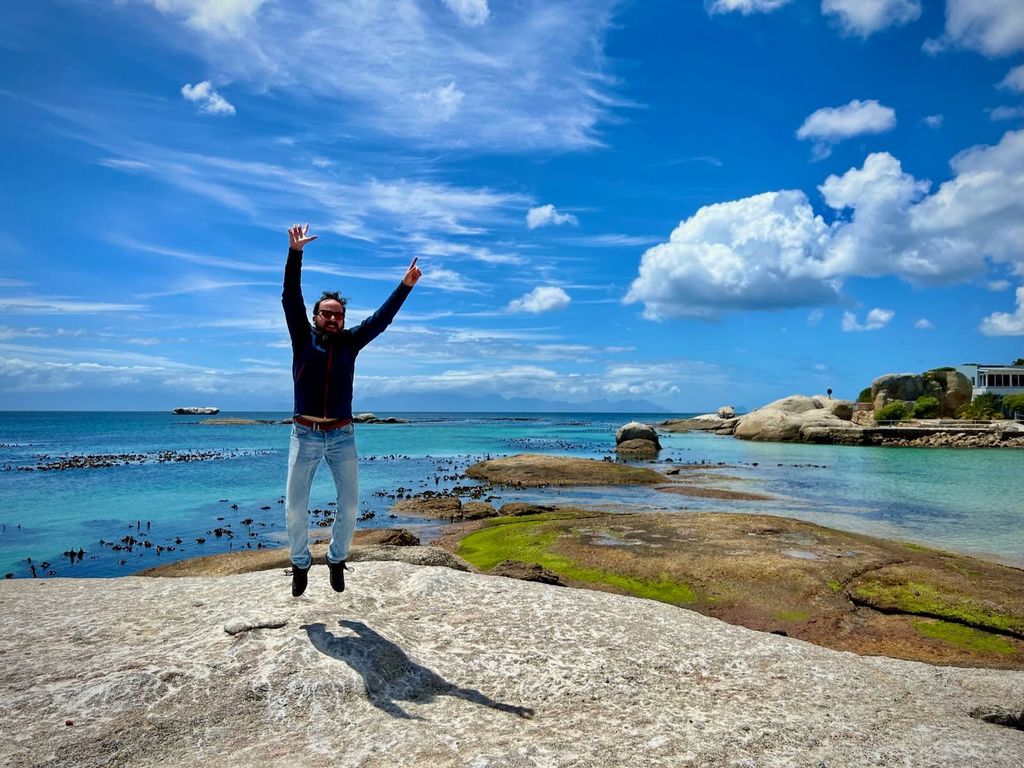 Then, we walked to the entrance of the official Boulder's Beach Penguin Reserve. Weather was very nice and warm. Entrance to the reserve wasn't cheap though (R176 per person), but we could get very close to the little animals. J. was very happy.
We spent some time watching them and taking pictures before going back to Seaforth Beach. We sat there for a while, watching the tide go up and the pingouins do their thing. Twice we heard a salvo of deafening gunshots (there is a navy base just around the corner).
After a while, we decided to Uber back to Kalk Bay (R99). We had the driver drop us off at the harbor. We walked on the jetty and admired the colorful fishing boats before we noticed a couple of sea lions laying in the sun, looking happy.
We spent some time there and then decided it was time for some wine. We entered the live bait resto and got seated at the window overlooking a huge old lion seal having the time of his life doing nothing on the pavement.
We ordered a bottle of Allesverloren ("All is Lost" 😳) rosé from 2022, which was very nice, with a small sushi plate. We spent a good time watching the sea lions, the seagulls, the locals, and the tourists. After that, we walked once more on the jetty before going along the coastal road. We entered up in a bookstore, where I almost ended up buying a book again about the history of land ownership around Cape Town (don't ask why, I have no idea). Then we took an UberX back home (UberX got confirmed immediately, which is better than Uber Go, which usually takes a few minutes, and the price difference wasn't much).
That evening, at 18:15, load shedding started again while I was happily taking a bath. This is when J. noticed that I had burned quite a bit on the neck and forehead. Oh no, here we go again. I had to biafine myself a couple of times.
At night, we decided to Uber to a neighborhood J. had spotted that had many restos. She had tried to call to book some of them, but they were either full or didn't pick up. It was still shedding when the Uber guy dropped us off, so everything was very dark. We entered the restaurant that J. had spotted, but it was fully booked.
We walked aimlessly, trying to find a new resto, and ended up at Ricks Café Americain. We sat on the balcony on the first floor just as the power went back on (along with the terrace heaters, thanks). We had a good time there with a very tasty mezze platter starter and good meat (J. had ostrich!) along with a bottle of Cabernet Warwicks First Lady 2020. We were so full after that that we ubered straight back home, where I biafined myself once more.