Jumping in the Elafiti Islands
The half-marathon is over, we had some well deserved rest and today, we're sailing! At 10 am, we meet with Serjan and Loran on the pontoon opposite our hotel in Dubrovnik, where they come to pick us up onboard s/v Felicita, a Beneteau Oceanis 41.1 from 2003.
We are going to visit three of the Elafiti islands: Koločep, Lopud, and Sudurad. The initial weather forecast was quite grim, but it turned out great in the end. The sail to Koločep is amazing, with the full mainsail and genoa out, and us tacking around to reach our first port of call. We dock at the operations dock of Koločep and go for a 45-minute walk around and a coffee... and of course, a jump!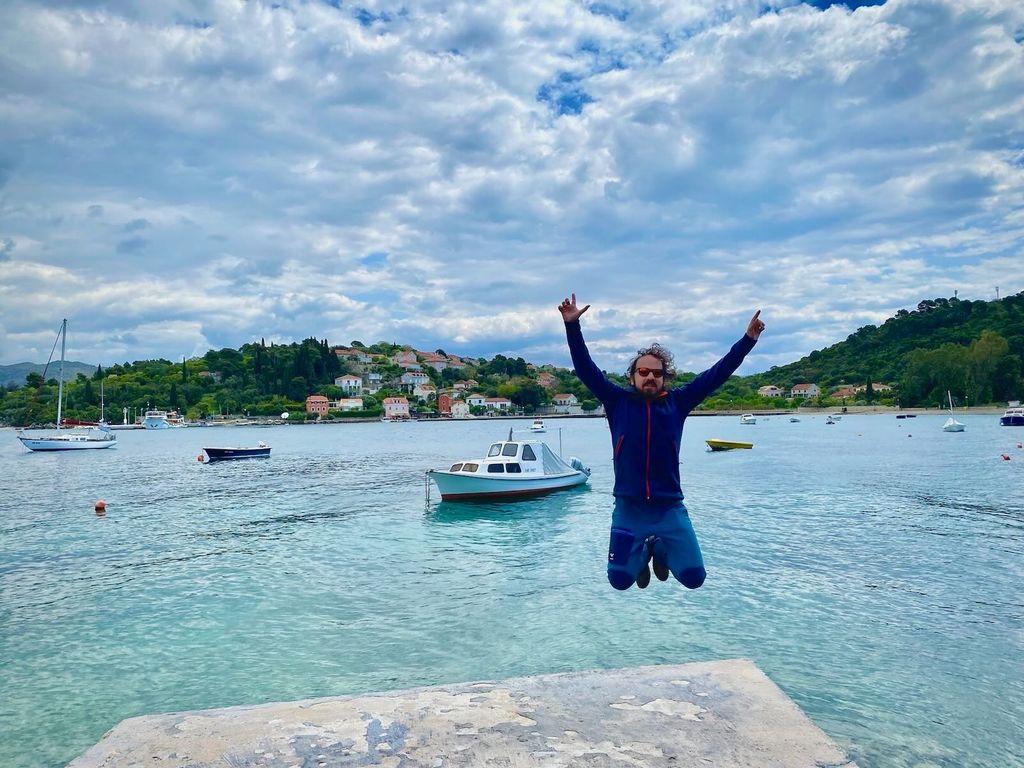 We like sailing so much that we're designing our future plans: we are going to learn to sail! First, we will take some Laser lessons at Wildwind in Mauritius. Then, we may take some RYA competent crew classes in South Africa or elsewhere. And maybe later, we'll take more sailing holidays.
We both like this a lot because it gives us a bit of a new "purpose" in life (if there is such a thing). Also, it will keep us outside, active, and fit, which is what we need. Very exciting!
After the first island, we dock at Lopud and take a walk around, daydreaming about our possible future life. We then head to Sudarad, where the tiny restaurant in front of the docks is waiting for us. It's their first day open, and their food and wine are truly gorgeous! We have a blast with the fish and squid cooked on the grill, along with a chilled local white wine. Fish bones go to the fluffy resident cat that makes sure to eat everything before crashing onto a nearby pillow. We pay 640 kunas (about 80 euros) for that meal but leave happy.
The way back to Dubrovnik is slow as the wind is weak. We personally like it, but at some point it gets too slow for our skipper, and we have to fire up the engine and motor our way back. They drop us right in front of our apartment after we pay for the day. 400 EUR is a large expense for this private sailing trip but definitely worth it in our opinion.